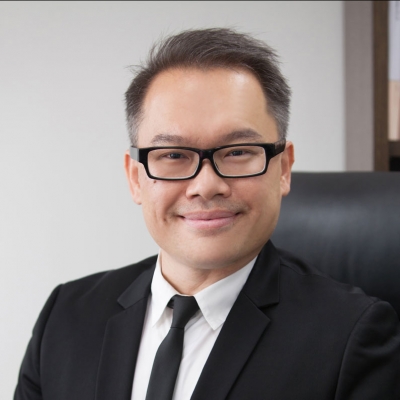 Admitted as an Advocate & Solicitor,
The Supreme Court of Singapore 1996
Diploma in Singapore Law,
The National University of Singapore 1995
Bachelor of Laws Degree,
The University of Buckingham 1994
Honours Second Class Upper Division
CONTACT INFO
Justin Wee
DIRECTOR IN THE REAL ESTATE,
CONVEYANCING AND BANKING PRACTICE GROUP
Justin Wee is a Director in the Real Estate, Conveyancing and Banking Practice Group of WNLEX LLC.
His practice ranges from normal conveyancing dealings for individuals to large, complex real estate transactions acting for property developers. Justin is both reliable and a robust problem solver.
Justin's wide experience in real estate, conveyancing and banking transactions include the drafting and vetting of tender documents and bank security documentation, negotiations, incorporation of holding and investment companies, application for licenses and approvals from various government authorities and agencies, advice and legal opinions on all areas of real estate and related matters including property development, JTC properties, en-bloc or collective sale and acquisition of properties as well as leasing of residential and commercial premises.
Past Transactions include:-
Acting for developers in the acquisition of real estate and all aspects of project development of residential or industrial or residential cum commercial buildings. Recent projects include Skies Miltonia, Lloyd Sixtyfive, The Oliv, TAG A, Spazio @ Kovan, Suites @ Newton, Vivace and VERV @ RV.
Acting for developers and builders in a joint venture construction project.
Acting for banks in relation to term loan facilities, construction loan facilities, revolving facilities and guarantee facilities for local residential and commercial developers.
Acting in subdivision of residential and commercial plots/premises.
Acting for landlord in commercial leasing of office premises.
Acting for proprietors of residential and commercial developments for en-bloc or collective sales.
Advising the proprietors of residential developments in a redevelopment joint venture with a property developer.
Drafting of bank security documents including loan agreement, mortgages, Security Trust Deed and Deed of Assignments.
Drafting of facility letters and variation letters for banks.
Advising foreign banks on their standard terms and conditions.
Advising banks on their powers under local legislation.
Drafting of Power of Attorneys for the bank.
Other Real Estate and Banking related work:-
Advice on property tax, stamp duty and estate duty matters.
Issuing of legal opinions and drafting of contract documents.
Drafting and vetting of banking documents for banks.
Registration of charges and stamping of documents for banks.